I met Tom Fishburne when we worked together to do some unconventional ads for a conventional industry.
Tom, the Marketoonist, is a brilliant marketing professional who has been drawing cartoons on the back of his Harvard Business School case studies. His illustrations are an imaginative way to tell a story about the marketing profession, the clients we serve and the absurdity of it all.
When we worked together, I provided Tom with a brief about the challenges the company I worked for was facing, and he came back with cartoons that cut through the clutter that we ran in industry trade magazines. They were clever and compelling in the story they helped us tell. In a word, they were brilliant and quickly communicated the essence of our core belief. The ads didn't look like anything that industry had ever seen.
I also knew that they were superb when I had several of my colleagues up in arms because the ads/cartoons were so effective at making an important point we were desperate to communicate, and my colleagues feared a backlash from the industry. I was delighted because I feared being ignored.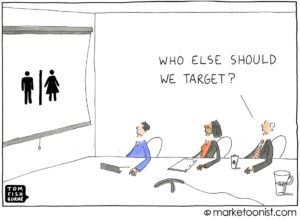 The cartoons broke through and helped us make a critical point that we needed to communicate.
A Pedigreed Marketer
Tom has worked for some of the great brands from Haagen Dazs, Method, Hotel Tonight and General Mills. His knack for capturing the world of marketing in cartoons coupled with his deep understanding of the marketing profession puts him in a class by himself. There are many of us who write marketing blogs, but Tom is the only one I know who illustrates his message with a witty drawing that tells a compelling story. You can sign up for his almost weekly email that contains his latest cartoon here. You can also learn more about Tom from Mark Schaefer's wonderful book Known that tells Tom's story.
"Tom is the David Ogilvy of Cartooning" – Seth Godin
Tom has put together a collection of his work from the last fifteen years into a wonderful book called Your Ad Ignored Here. Any marketing professional who could use a laugh with some biting insight should pick up a copy of his book. You can preorder your copy here.
I just finished reading an advanced copy and can't wait to reread it. I'm amazed at how succinctly he can challenge the industry on it's on B.S. Take any buzzword du jour like pivot, synergy or digital transformation, and Tom will find the funny through his cartoons.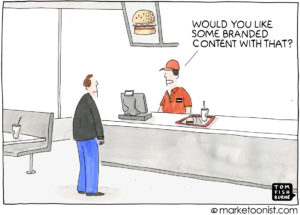 If you have a passion for humor, marketing and not taking yourself too seriously, this book is for you. If you don't get the jokes, then I'm afraid he is writing about you. By the way, this book would be a perfect gift to give your marketing friends and clients for the holidays. It is bound to make them laugh – either at you or at themselves – or both! 
---
Need help with your marketing efforts? I can't draw but I'm an excellent listener and a pretty counterintuitive marketer. Let's talk. 919 720 0995 or jeffslater@themarketingsage.com
Book Photo and Cartoons courtesy: Tom Fishburne
---