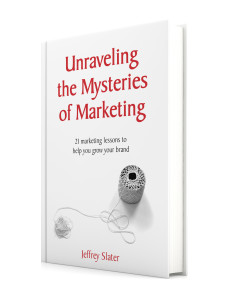 Who Should Read My Book About Marketing?
If marketing is a bit of a mystery to you, my book is for you.
Whether you are a small business owner, new entrepreneur or inexperienced in marketing, this is the right book for you to read. It is filled with easy to understand ideas about marketing that are told through my personal stories from experiences as an entrepreneur who successfully grew a small business that landed on INC MAGAZINES FASTEST GROWING COMPANIES. After my entrepreneurial days, I then continued working in several large and mid-sized consumer packaged goods companies managing millions of dollars in marketing investments.
Learn about some of the people I worked with from Ben & Jerry, Macho Man Randy Savage and my lunch conversation with President Reagan.
Do you struggle with these questions?

How can marketing profitably grow my business? Should I add a new line of product to my business? Why don't I have more customers? How important is it to be focused on one unique benefit for customers? Is it a good idea to partner with other businesses? Should I use traditional advertising to get customers or is there a better way to be found? How come I don't get more potential customers to my website? Can I learn how to stand out from my competitors? Am I pricing my offerings properly? How can I understand my customer's needs better?
The Marketing Coach
Think of this book like a marketing coach for someone who knows they need to market their business but doesn't understand the fundamentals and thinks marketing means advertising. (Hint: It doesn't)
Read this book if you want to learn some valuable lessons from a trusted advisor who has been in your shoes. I promise you will learn marketing insights that can help you grow your business. Let me be your guide, your coach and your mentor to unravel the mysteries of marketing.
To order, click the links. This book is exclusively available through Amazon. Thank you for your interest.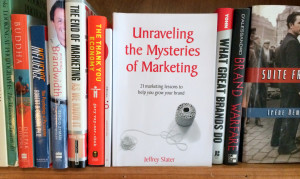 Timely and Timeless Wisdom
"Jeff Slater is a magical story-teller and has the unique gift of weaving in pearls of wisdom among the engaging storyline. His insights on marketing are both completely up to date (timely) and likely to stand the test of time (timeless)." Don P
Informative and useful
"Each of the 21 chapters focuses on a theme encapsulated by a single word; Focus, Targeting, Perception, Fearlessness etc. Following the story and a discussion of its relevance, every chapter concludes with a short summary of the key learning points and at least 1 challenge/suggestion to the reader." Joe H
A Treasure Trove of Insights and Practical Advice
"Jeff weaves his life's stories into powerful lessons on how to get your brand noticed in a way that sticks and resonates with customers and makes you laugh along the way. He generously shares a lifetime of wisdom about a topic he has forgotten more about than most of us collectively know." Bob S
Wit and Wisdom, a Perfect Combination
"I am an experienced and educated marketer and entrepreneur and I learned more reading Unraveling the Mysteries of Marketing, than I did getting my MBA!" Dana C
A little gem
"Slater has created a gem of a book: practical, easy to grasp, and valuable for those trying to get a handle on something (marketing) that for many (such as this reviewer) doesn't come as second nature."  Sephage
A book for the non-marketing expert!
"A fast and interesting read that gives you the quick ins and outs on a subject we THINK we know about." Milo F
Stories from a storyteller
"Besides building and selling a successful business, Jeff had the opportunity to hang out with Ronald Reagan and Randy `Macho Man' Savage. I want to know what he knows." Chris D
An excellent read, regardless of your background
"Jeff effortlessly provides the reader with invaluable life and business lessons with every story he tells. Each lesson is infused with humor and practical guidance that is sure to benefit any reader, no matter their background." Tony P
Valuable lessons & fun to read
"I found the principles Jeff teaches in this book to be really helpful guiding posts for navigating the world of marketing." Candace H
Great Stories connect you to your customer,
"Through my years of experience in marketing and selling, the message is clear that telling a story and making a human connection to your customer is the key to success. In his book Jeff Slater has provided solid marketing advice while sharing his life journey. It's worth the read." S. McClendon
Full reviews available on Amazon