The world has wild and crazy ideas waiting to be borrowed or gently stolen.
Some businesses get started based on an absurd idea. They can be so off-the-wall that everyone laughs at them until you start making money, get coverage in major news outlets and become the talk of the town.
I like to find crazy businesses that might give me a marketing idea to jumpstart a brainstorming session. Often, a wild & crazy business can help set off a creative marketing inspiration.
For example:
You Say Potato
There is a company that will send a message to someone for you on a potato. Yes, a real potato.
Imagine your emails not breaking through and your postcards becoming tired. Maybe if you printed your message on a potato (or banana, squash or onion), you'd be heard, and the message will break through the clutter.
Of course, it has to fit with the key idea you are delivering but what an innovative way to get your message through the clutter. Check out Potato Parcel. https://potatoparcel.com/
The Lesson: Find an unexpected medium to deliver your message instead of the ordinary. When was the last time you opened your mail and found a potato with a message? 
---
Three is a Crowd
There is a company that helps you deal with the third mystery sock that goes rogue. Throx is a sock company that sells three socks to a pair. So, you always have an extra sock in case one gets swallowed by the dryer. http://throx.com/home.html , A company, could borrow this idea from Throx for a promotion to communicate the benefit of being prepared and ready for anything.
The Lesson:  What could you send that to customers that are unexpected and fits with the higher emotional benefit of what you do. A firm that sells security systems or software security could use Throx to talk about that extra layer of protection.  Yes, a pair of socks is a gimmick, but it will break through the inbox and get noticed.
---
Mystery Package
Imagine a store where you pay $10, and you can't decide what you will receive. It is a mystery! The Something Store celebrates the joy of surprises. You spend $10, and they will send you something (legal) of value that is new.
Your "something" may be anything. It could be something you need, want or desire. It could be a cool shiny gadget, rare book, party game, handmade necklace, reverse clock, a box of gourmet chocolates, favorite video game, pashmina scarf and on and on.
If you are wondering, they have sold over 200,000 somethings.
The Lesson: Sometimes a surprise can help you tease the curious customer. Imagine how to use mystery and surprise in your marketing? You could sign up a customer for a monthly gift from the Something Store. Every month, they get a surprise. It could reinforce the idea that your company is always cooking up something new.
---
Marketing Inspiration
I am always looking for new ideas that I could use in unexpected ways. I hate any marketing effort that is boring and obvious.
Recently, I had an idea to use a mannequin in a trade show booth. It was a big hit. The idea was inspired by walking past a department store window and seeing people pretending to be mannequins on display. My client's marketing team executed the idea brilliantly, and the mannequin stood out at the show. (It was a show for the boating industry, so we named the mannequin Marina).
Years ago, the snack food brand I managed called Andy Capp's couldn't keep up with demand. Our product was doing so well in the market, that we had to communicate to our customers that we couldn't fill their orders in full.
I noticed a pair of funny boxer shorts in a TV show and thought, what if we sent our customers a pair of branded boxer shorts with the snack food brand and logo and told customers that we got caught with our shorts down.
It was a big hit, and twenty years later, I still have former customers say how that little gimmick made them laugh and stayed with us as a client.
Noticing Things
Yes, these are dumb puns and silly promotions. But, they were big hits with our customers.  Very human and fun. Inspiration can be right in front of your eyes if you just keep noticing things around you.
What are you noticing and observing for creative inspiration?
---
Need help with a crazy idea to help you get noticed? Want ketchup with those fries? Connect with me at 919 720 0995.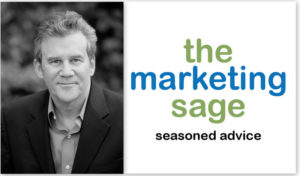 Photo Credit: Screen grab from Potato Parcel.
---