The conventional way to enter an industry is to do what everyone else is doing.
How would you enter the mattress business and differentiate your brand? Here are some facts:
There are 600 mattress companies, Temper-Sealy does $3B in sales, 47% of mattresses sell in mattress specialty stores, 47% sell in wholesale clubs or department stores, people keep a mattress 8-10 years on average, Temper-Sealy sells 100 styles of the mattress. Mattresses are big, bulky and heavy to deliver and usually require two strong deliverymen.
Startup Casper sells just 1 type of mattress. It comes in a box. They don't sell it in a store. 
The founders of Casper decided to challenge everything about the experience of buying a mattress.
Casper wants to do for sleep what Whole Foods did for food.
Casper didn't set out to become a mattress company; they wanted to build a business around the experience of sleep. After two years, they achieved $100MM in revenue by rethinking how people try, buy and experience mattresses. Analyst expect them to reach $500M in sales in the coming few years.
Instead of creating 100 SKU's as an industry leader, they simplified and created just one.
Instead of showrooms, you buy online.
Instead of being hard to ship or deliver, they found a way to fold their product into a box the size of a dorm refrigerator.
Instead of "you buy it, you keep it" – you get 100 days to experience the product in your home and can return it without questions.
Instead of selling you once and never keeping in touch, they built a community of customers to help enhance the entire experience of sleep. They even publish a magazine called Van Winkle to help share tips and advice on ways to improve sleep.
Instead of selling customers, people who buy become part of Casper Labs to continuously bring ideas to help improve the product or line extensions like pillows and sheets. Their community is 15,000 people who are like mini-product managers sending ideas and suggestions their way.
Instead of retail stores they only sell online but do have products in selective stores so people can see and feel them in the wild. (they partner with companies to rent limited store space to show off their brand).
They think like a tech company, not a mattress company, so they are always looking out how to improve and enhance the consumer experience.
Not everyone will disrupt an industry with their business.
But, can you take a few lessons from Casper to see how you could rethink how consumers experience different aspects of buying and enjoying a product?
Maybe you sell through a new channel of distribution that no one else uses, or you market your brand in an unconventional way that allows you to bring a different level of service.
The biggest breakthroughs often come to an industry when someone thinks beyond the product and makes the purchase part of a new overall experience.
In your business, could you change how people buy versus just focusing on what they purchase? Companies like Thrive Market created a variation of an online food coop. Instead of running a conventional charity, Carroll's Kitchen helps the homeless and women leaving prison by running a restaurant. Girl's Auto Clinic reimagined what it would be like to have women fixing your cars instead of men.
Steve Jobs was never selling the iPod; he was selling an ecosystem at Apple that allowed you to have 10,000 songs in your pocket.
Have a good sleep.
---
Are you losing sleep at night because of your business? Maybe you need to improve your marketing approach. I work with small, medium and large for-profit companies as well as non-profits. I can help you improve your marketing efforts so you can sleep better at night. Call or text me at 919 720 0995 except when I'm sleeping.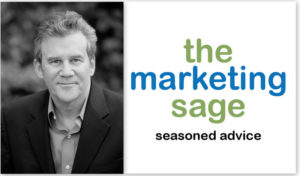 Photo Courtesy of Casper
I do not get paid to promote brands or products. I only write about companies with interesting marketing or business models.
---